P & M Motorsports
---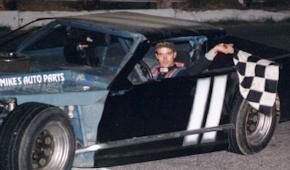 Driver, Patrick M. Hilliard

1994-1999 PRO STOCK # 11 was sold in Oct. '99

Pat had a horrendous wreck on the front straightaway at Wall Stadium in July of '97 that totalled the car. It took 2 months to rebuild but he came back stronger than ever, winning two qualifying races and finishing second in several features.

In '98 Pat ran into "racer's luck" trying to keep the Ford motors together: he had plenty of power but the Ford staying power wasn't there.

In '99 the motors were much better but work prevented him from running every week. When he did run, he always finished in the top 5 and was usually 2nd or 3rd. In late September he started 18th and moved to 2nd when a tire went down; two days later we sold the car to start our 2000 Dirt racing.

Pat is 28 years old and works for Showboat Casino as a bartender, he tried his luck driving an Asphalt Modified and finished 10th in his first race. Pat will be driving the #11 Dirt Sportsman at Bridgeport Speedway for Team 11 starting in April of 2000.
---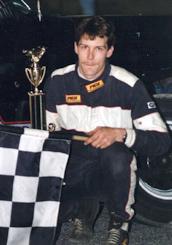 Driver, Mike A. Hilliard

Mike raced in the truck series for three years. In '97 he came close to winning several features, finished fifth in the overall points standings at Wall Stadium, and was awarded a trophy for most improved driver.

On April 23, 1998 Mike won his first feature in spectacular fashion by crossing the finish line in reverse after he and another truck came together coming off the fourth turn. Mike led the points race for the first half of the season, but then "racer's luck" took over and he missed 6 weeks and finished up 9th in points.

Mike started '99 running up in the top 5 every race and won another feature, but we sold the truck to start our 2000 dirt car. Mike will be racing again in 2001, but this year he will be helping his brother Pat with his Dirt Sportsman.

Mike is 26 years old and works for Showboat Casino as a bartender, he is married and has two sons, aged four years old and 7 months old.


---